Sectional Garage Door
Sectional Garage Door Service In Deer Park By Shield Garage Door Repair
Thinking About a Sectional Garage Door?
In the old days, most garage doors were made out of a single slab that would open by going slightly outward, before going up and tucking itself into the ceiling of the garage. While these garage doors still exist, a lot of more modern construction projects prefer a sectional garage door, as it is a more recent development in garage door technology. Principally, it works a lot like the traditional, single slab garage door. However, the single slab has been split into sections, often referred to as panels. This allows the door it fold itself along the divisions of these panels, allowing for a more fluid movement as the door opens and closes. While there are a few architectural purists that still prefer the traditional garage door, the sectional variant is increasingly more popular, and we at Garage Door Repair Deer Park are well equipped to help you understand how to properly get one and keep one, as well as help you along the way.
The Advantages
The sectional door comes with quite a few perks that differentiate it, not just from the traditional door, but from other garage doors available on the market. The most immediate feature you will notice when it comes to a sectional door is that it no longer opens outward. While the traditional door required some forward clearance, a sectional door has no need for that, which should be a relief to a few careless shins. It also comes in handy when living with small children who do not necessarily know how to stay out of harm's way. Another great feature is that the garage door sections are individually replaceable. While irreparable damage on a single slab door instantly means having to replace the entire door, a sectional door only requires you to replace the particular panel where the damage is found. Also, with proper installation, a sectional door provides the same amount of security as a traditional door, which is good news as it helps keep your property safe from thieves and intruders.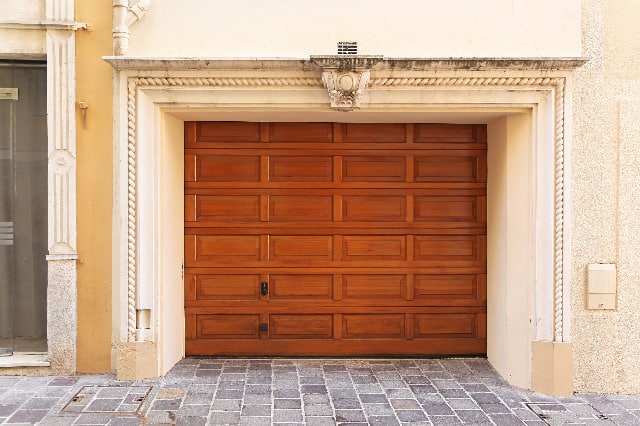 Tips
Before opting for a sectional door, there are quite a few things you need to keep in mind. The first thing is that a sectional door cannot be used for garages with low ceilings. This is because a sectional garage door requires ample headroom for the track to be installed. The interior of your garage must then be higher than the frame of the garage door. As mentioned, the security of the sectional door is dependent of proper installation, so it is of paramount importance to make sure the garage door is installed properly, to avoid someone breaking through the garage door in order to break it down. Since the garage door sections are replaceable, it is also important to make sure that the panels are replaced as needed. You should not wait to replace panels as this compromises the security of your garage. In cases where the panels are made of wood, delaying replacement also carries the risk of issues in one panel, like rot or termites, jumping to other panels.
Professional Help with Garage Door Sections
In order to maximize the potential of a sectional garage door, we recommend investing in professional assistance. Unless you have an extensive background in carpentry and hardware, a tried and tested expert is your only hope of getting the most of your garage door, making sure it will be functional to serve you for the years to come. We at Shield Garage Door Repair understand what our customers need, which is why we utilize our years of experience with garage doors, sectional or otherwise, to make sure that our customers only get the best. We only hire the best professionals who have extensive knowledge and experience to work under our name. We also make sure that we use the latest equipment to get the job done fast and done right. To top it all off, we are undoubtedly convenient, as we are open 24/7 all days of the year. You can call any time to get work done on your garage door, be it installation, replacement, maintenance, or repair. You only need to trust one company when it comes to your garage.